| | |
| --- | --- |
| Posted by Chad on July 15, 2010 at 2:29 PM | |
Those of you in NC might be familiar with Endurance Magazine.  It used to provide some good information for those looking to improve their endurance.  Over the years, it's become more of an ad piece for the publisher to sell enough things to cover the expenses of the mag.  I guess he doesn't make money on this, I don't know.  Anyway, what they are selling is what bugs me...
Terry Fox was a 21 year old Canadian whose battle with cancer was intermittent with running daily marathons and speaking engagements to raise money for cancer research.  Over the course of 143 days, he ran a marathon a day, accumulating over 3300 miles, and $10 million for research, all one one 'good' leg, and an artificial one made of fiberglass and steel.
HIs motto was "anything is possible, if you try."
Unfortunately, he passed back in 1981, having to quit running due to the cancer spreading to his lungs.
Two pages before this article on the late, inspiring Mr. Fox, there is an ad for...THOSE STUPID "SHAPE UP" SHOES!!!!!
http://hubbardtrainingsystems.blogspot.com/2010/06/toning-shoes.html
How do you have an ad for something as useless as this, selling "fitness" and being in shape (whatever that is)  when a man is running constantly to raise awareness and money?   Someone has to explain this to me...how does a magazine have an ad for this, while having such good articles that help inspire others to do things they never thought possible?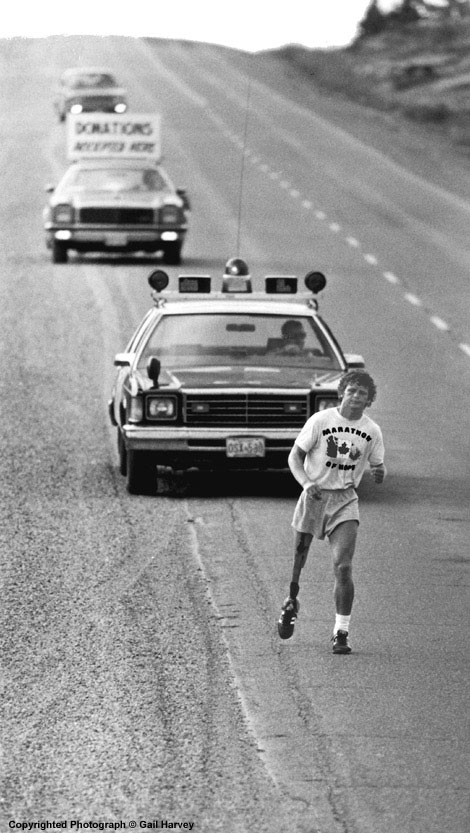 After deciding to try to run across Canada to raise money, he said, "somewhere the hurting must stop and I am willing to take myself to the limit for this cause."
Damn right.
Now, I'm off to go get in shape by wearing those shape up shoes.