Dr. Chuck Stone of whom this is written:
"Nominated twice for the Pulitzer Prize, Stone was inducted, in August 2004, by the NABJ into its Hall of Fame.[3] On March 29, 2007, Stone attended a ceremony in the U.S. Capitol rotunda, where he and the other veteran Tuskegee Airmen (or their widows) were awarded the Congressional Gold Medal by President George W. Bush in recognition of the Airmen's service during World War II.[4]   According to his biography on the NABJ Web site, "Because of his reputation for integrity, Stone
became a trusted middleman between Philadelphia police and murder suspects, more than 75 of whom 'surrendered' to Stone rather than to the cops."
http://tuskegeeairmen.org/uploads/ChuckStone.pdf
Now, in light of pop stars, prima dona athletes, and celebrities, I say have your kid, especially if he/she is a minority, to look at a parent as a role model.  If the parent isn't someone worthy of this honor, how about this guy (pictured here with his wife):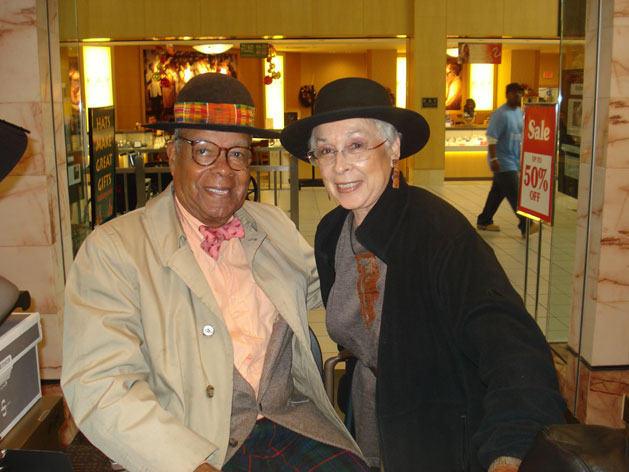 Not long after I met my wife to be, we were walking across campus, and we happen to bump into Dr. Stone.  Now, I had met him a time or two, heard him speak.  I generally regarded him as an icon and role model and anytime I got the chance, I loved to hear what he had to say about any subject.  What I didn't know, was that he knew my girlfriend!!
She had managed a popular eatery downtown, and he stopped in there from time to time.  Dr. Stone and she had many conversations about race relations here in the US and abroad in Ireland, where my wife is from.  Actually, she informed me later that she learned more from Dr. Stone about race relations here in the US, and even more about Irish relations with the English, than she had ever learned in books!  Dr. Stone once told her that the Irish and the blacks have "a lot in common."  His words.
When we saw him that day, I asked about his wife, and mentioned that I thought I was very luck in holding the hand of the Irish lass next to me.  He informed me that he had "married up" and he hoped that I did the same!
Now, find your mate and find a good man or woman to look up to!
GO!