| | |
| --- | --- |
| Posted by Chad on November 30, 2010 at 3:00 PM | |
So each generation thinks that theirs was the 'golden age' of play when they were kids.  Are we headed down a bleek path?  If my generation thought that running and jumping and climbing was fun, and every generation before mine thought that as well, where are we headed?  I agree with this article that every generation has it's excuses for not going outside to play, but the technology from here on out is going to promote the decrease in activity, moreso than in any generation before.
http://naturalmessiah.blogspot.com/2010/11/history-of-play.html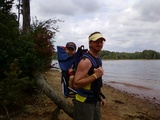 The virtual world is slowly starting to outpace the activity in the real world.  We are losing our mobility, losing our connection to the Earth, and losing our minds at an ever earlier age.  You can't tell me that ths disconnect doesn't increase from one generation to the next.  It's happenning.
http://activeconcepttraining.webs.com/apps/blog/show/2588934-play-time-
Play...now before your kids don't want to anymore!
GO!