| | |
| --- | --- |
| Posted by Chad on November 8, 2010 at 3:04 PM | |
In the sensative manner I am trying to write about this, I will try to refrain from offending if I can.  Though I doubt that is possible in this case.
Standing behind 3 overweight women in line this past weekend, I couldn't help but overhear their conversation.  They were speaking of two approx 8 year old girls in front of them, apparently their daughters.  "Yeah the doc was telling me to start watching her weight and I don't know why.  She is about average for her age now, though she is good and solid, unlike (so and so) who gosh, she is just muscle and bone.  You can see her ribs.  She needs to eat more..."  And so the conversation went.
Uhm, the reason the doc was telling you to watch her weight was because he was looking at YOU!  And no, your child was not "average" as you called it...she was on the BAD side of PLUMP.  Besides, who wants to be an average size anyway?  Are the numbers of what is considered average not increasing?  Like our waistlines?!?!
I don't want to be average.  In any way, especially the weight that is considered good for my height...what a waste of time.
People.  Stop making excuses.  Big-boned?  I don't think so.  Now, are some people going to be bigger than others, sure.  That's just us as humans.  Some are sumo wrestlers, some are basketball centers, some are fly-halfs.  So be it...but DO NOT make excuses for why you or your child are obese.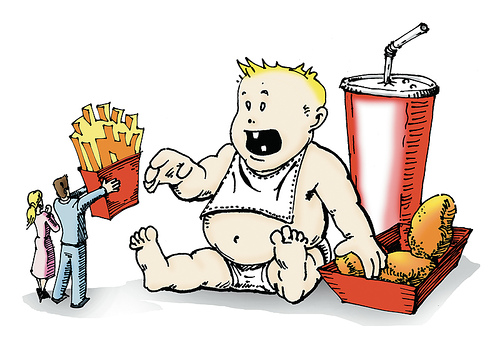 Educate yourself...learn that the Bojangles sweet tea and fries and rice and biscuit and breaded fried chicken is not the best choice every week.
Edcuate.
  http://activeconcepttraining.webs.com/apps/blog/categories/show/662521-weight-loss
GO!