What a basic question.  If we knew that , then would we be such an obese society?  Well yes, to put it bluntly.  We KNOW how it happens, for the majority of us:
Net change of fat = fat stored - fat burned
BAM!  That's all we need to know right?  Notice it is not necessarily a carlories in vs. calories out equation.  Take a look at what Lyle McDonald   http://www.bodyrecomposition.com/   has to say about the science of fat gain:
"For example, one popular book bases one of its many incorrect theseson a 1980 report suggesting that the obese ate the same number ofcalories as the lean.  Ergo, obesity was caused by something else.  The problem is this, the data set is wrong.  A fact we've known for nearly 30 years but that the author was somehow unable to become aware of in his '5 years of dedicated research'.
Study after study after study over the past 30 years shows that the obese systematically under-report their food intake (by up to 30-50%) and over-report their activity (by about the same).  So when they say they are only eating 1800 calories per day, they may be eating 2400-3600 calories per day.  And their activity isn't nearly what they think.
And when you put those same folks in controlled metabolic ward conditions and control their food intake and/or activity output…voila, the energy balance equation holds.  It's only when you believe the (incorrect) self-reported data that it doesn't.
And make no mistake I am NOT saying that the obese are lying aboutt heir intake, not consciously anyhow.  Most people simply suck at knowing how much they are actually eating.  Leave them to self-report it and they almost always screw it up.   If you're mistaken enough to believe the self-reported values, you reach even more screwed up conclusions about things."
So, part of our problem is we don't know what a portion is!  That's the fundamental problem here.  Know what a portion is, and we got this thing licked!  Sort of!  Here is another piece from Mr. McDonald:

Excess dietary fat is directly stored as fat
Excess dietary carbs increases carb oxidation, impairing fat oxidation; more of your daily fat intake is stored as fat
Excess dietary protein increases protein oxidation, impairing fat oxidation; more of your daily fat intake is stored as fat
Got it? 
All three situations make you fat, just through different mechanisms.  Fat is directly stored and carbs and protein cause you to store the fat you're eating by decreasing fat oxidation."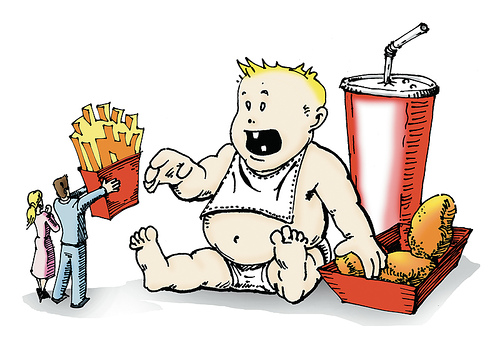 http://www.bodyrecomposition.com/fat-loss/how-we-get-fat.html

Again, it is a little complicated, these processes that he mentions in the science of why and how this happens.  But this is the point--we CAN fix this!!  Just what is a serving size?  Look it up.  It's everywhere, and soon, it will be more clear on labels as well.  However, if you are eating REAL food, there may not be a label, so look up how many ounces of meat is a serving, veggie is a serving, etc.  It just may save your life.
Don't be lazy, look these things up, it's easy on any search engine.
GO!