Below is a link to a yahoo article about fitness myths busted.  Well, they may have busted one or two, but otherwise, they were wrong on more than one ocassion!  My reponses to their "busting" are in red below!
http://shine.yahoo.com/event/loveyourbody/5-fitness-myths-you-need-to-forget-2176725/
1. Walking is not as effective as running.
Sure, you'll burn about twice as many calories running for 30 minutes than walking for 30 minutes. But if a runner and a walker cover the same distance, they burn about the same number of calories. So if you're willing to take the 'slow route,' you'll likely lose just as much weight. In fact, studies have proved that how long you exercise matters more than how hard you exercise.
WRONG!  For every study that shows how long you exercise is more important, there are several more that suggest that intensity is the key!  Anecdotal evidence shows the same.  If you want results with something--be it your body, career, parenthood, etc.--you have to have give intense effort.  Enough said.
2. Exercise increases hunger
It's a common misconception: If you burn hundreds of calories during a workout, you'll end up eating more. But research shows that exercise has no effect on a person's food needs, with the exception of endurance athletes who exercise for two hours a day or more. In fact, research shows that exercise often suppresses hunger during and after the workout.
WRONG!  Your body does need more fuel when you move more.  So those folks trying to lose weight have to watch out for their cravings/hunger pangs.  You are trying to lose weight, so teach your body to use the fuel source it already has, by paying attention to this newfound hunger from more exercise (movement) and letting your body learn how to burn the fuel it has!  This is done with patience and a little trial and error to see how many calories (a mis-use of the term) you need to consume.  More below...
3. It doesn't matter where your calories come from
Calories are not created equal. First, some foods (in particular, proteins) take more energy to chew, digest, metabolize, and store than others. Others (such as fats and carbohydrates) require fewer calories to digest and store. Second, different food types have different effects on your blood sugar. Refined carbohydrates (think white bread, cookies, and fruit drinks) raise blood sugar levels dramatically, which encourages fat storage, weight gain, and hunger. Fibrous foods like apples, as well as proteins, raise blood sugar less, making them friendlier to your waistline. Finally, foods that contain a lot of water, such as vegetables and soup, tend to fill the belly on fewer calories, so you'll stop eating them way before you stop eating more calorie-dense foods.
Ok, this one they got right, for the most part.  If you want to lose weight, the cells have to release stored energy (fat) from fat cells.  To do this, there can be very little insulin in the bloodstream.  Which macronutrient causes the most insulin release?  Carbos.
4. Diet alone is enough for sustained weight loss
You'll lose weight in the short term by slashing calories, but experts say exercise is what keeps pounds off for good. Exercise burns calories, of course. It also builds muscle, which takes up less space than fat. Muscle tissue also requires more calories to sustain it than fat tissue does. In other words, the more muscle tissue you have, the more calories you'll burn at rest. In fact, some studies suggest that over the long term, if you had a choice of eating consistently less or exercising consistently more, exercise would be the better weight-loss choice.
WRONG!  Ok, maybe they got it a little bit right.  Eighty percent of weight loss is food consumption related.  What you take in.  You can't out-train a bad diet, simply put.   Having said that, movement is essential to keeping your mobility.  Movement is essential to keeping your brain from wasting away as well.  Movement is essential to lift heavy objects to build muscle.   HOWEVER, movement is not AS essential for weight loss.  Your food and drink consumption is where that comes into play.  Once you reach your target weight and body fat percentage, then the muscle you have built can help you stay there.
5. There is no best time for exercise
If you're simply walking to get healthy or take off some weight, it doesn't matter when you do it, as long as you do it. But if you're an athlete looking for the best-quality workout, choose the late afternoon, when body temperature is highest. Muscles are warm, reaction time is quick, and strength is at its peak. If you push yourself harder as a result, you will burn more calories.
WRONG!  This is a misrepresentation of the truth.  Yes, based on our circadian rhythms, they are correct.  http://activeconcepttraining.webs.com/apps/blog/show/4331001-circadian-rhythms-turn-off-the-light-
If you are looking for peak performance, maybe the late afternoon is your best time to train.  What if you have to work out in the early morning?  Well, guess what, that's ok too--especially for weight loss!  When you workout first thing in the morning, without having eaten, it brings to light your DNA experience of having to work to find food.  Think of your workout as work to find food.  Once you find it, eat it, because you don't know when your next meal might be!  So maybe this article is wrong about their first statement above as well?!?
Also, keeping your DNA in mind, thousands of years ago, your ancestors didn't know when their "workout" was going to be, they just had to move to survive.  Imagine them telling the predator or comepeting clan or tribe to "wait to attack until this afternoon, when my strength is at its peak, and I'm warmer."  I don't think so...I'll take a warrior who can "workout" at any time of day versus a modern athlete who can only workout in the afternoon.  Don't you think?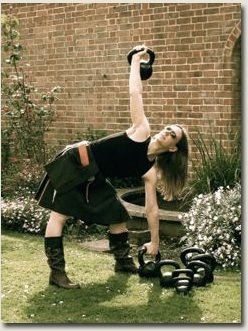 Don't worry so much about fitness myths, or what the media tells you.  Just go do it!  If you've forgotten what to do, take another look at this post from earlier this year:
http://activeconcepttraining.webs.com/apps/blog/show/2588934-play-time-
GO!