| | |
| --- | --- |
| Posted by Chad on February 1, 2011 at 8:33 AM | comments (22) |
Want to see something interesting?  Watch my 2 1/2 year old squat, do push ups, hang from a bar, run...with a bike helmet on.  Oh and wellies too!  Why you ask?  Because he can, and the inhibitions we have as we get older, haven't deterred him yet.  You know what else hasn't hit him?  The fact that working out is NOT SUPPOSED TO BE FUN, right?
Isn't that what you think MOST of the time..."ah, hell, got to go to the gym again."  You say it with disdain and a sense of dispair and "not again."  Why?  When did your workout become so unbearable?  If it is, you probably aren't doing the right stuff.  Don't get me wrong, there are days when I don't have the energy or "want" to workout.  That's when I don't.  I either play, or do some light mobility work, or go through the motions.  Not every day has to be intense and "the best workout I ever had."
What about those days when I need to find inspiration?  I look at my wife and/or son.  I look at them and know two things:  One--if my wife could exercise, she would.  Two--my son HAS FUN when he runs around, lies on the floor, and says "dada, I doing my exercise!!"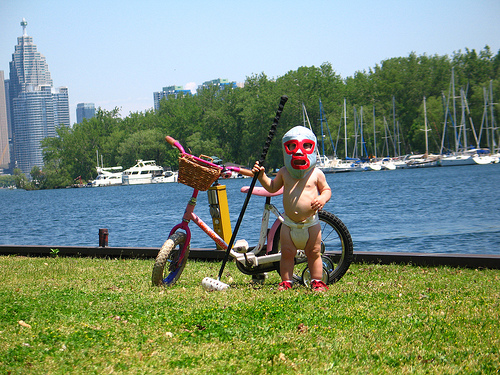 (no this is not my son :-)  however he looks close to how my son did the other day)
Where is your inspiration coming from?  If you need some ideas, contact me.
Don't know what to do when you get to the gym?  Contact me.
Bored with your "routine?"  Contact me.
Are you going to whine and complain about every exercise?  Bring it.  I can take it...contact me.
It's playtime.  Put your bike helmet on, along with some rubber boots, and have some fun!
GO!