Ok, so I used a line from Jimmy Buffett's classic to get your attention.  Well, it's in the news again.  Salt.  Is it bad for you?  How much is too much?  What happens when you eat too much salt, or too much calories?
Take a look:  http://www.reuters.com/article/2011/05/03/us-eating-less-salt-doesnt-cut-heart-ris-idUSTRE7427AG20110503
According to this article, yet another study is saying that salt intake did not affect heart disease directly.  I know, I know, so who are we supposed to believe?  Well, take everything you read with a grain of well, salt, and look at this paper written by Gary Taubes taking ALL research to task:  http://www.stat.berkeley.edu/users/rice/Stat2/salt.html
"The case against salt begins with physiological plausibility. Eat more salt, and your body will maintain its sodium concentration by retaining more water. "If you go on a salt binge," says Harvard Medical School nephrologist Frank Epstein, "you will retain salt and with it a proportionate amount of water until your kidneys respond and excrete more salt. In most people, you will detect a slight increase in blood pressure when body fluids are swollen like this, although there is a very broad spectrum of responses."
Behind this spectrum is a homeostatic mechanism that has been compared to a Russian novel in its complexity. The cast of characters includes some 50 different nutrients, growth factors, and hormones. Sodium, for instance, is important for maintaining blood volume; potassium for vasodilation or constriction; and calcium for vascular smooth muscle tone. Increase your caloric intake, and your sympathetic nervous system responds to constrict your blood vessels, thus raising your blood pressure. Decrease your calories, and your blood pressure falls...
...no diagnostic test exists for salt sensitivity other than giving someone salt and seeing what happens, which still won't predict whether the sensitivity is lifelong or transitory."
In a 1972 paper, a scientist wrote about a study where he had given rats what would be the equivalent to 500 grams to the average size human body--that's right, 500 grams of salt--to these rats.  (Remember that the recommended daily intake of salt for a human is less that 2000mg.)  Oh, and the results of the blood pressure?  All of the rat's had an increase...no way!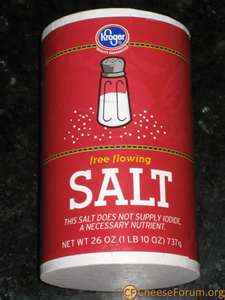 What are these scientists thinking?  What's more...what is the media thinking by picking up these studies that are meaningless and touting them as gospel??  Certainly not anyone who I want to listen to for my information.
Salt.  From what I have read, leave the table salt alone, use sea salt if you want.  Use it sparingly because it has more flavor.  Don't eat packaged crap that has tons of preservatives in them, and flavor REAL foods with spices.  Eat like your great grandmother would.
GO!